Widower's bid to fulfil Hereford sweetheart's baby dream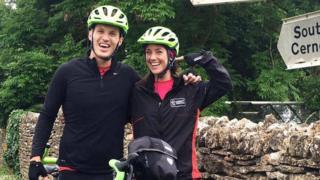 A man who lost his wife to cancer is hoping to realise their dream of having a child through a surrogate.
Emmy Coates blogged about her dream of becoming a mum and said husband Jake would be the "best dad in the world" before her death in June, aged 31.
Jake Coates, 32, is planning to use embryos the couple had frozen after his wife's thyroid cancer spread, as reported in the Daily Mirror.
Mr Coates said in his blog his wife had been "too perfect for words".
The couple first dated as teenagers after they met at Hereford Cathedral School, and re-kindled their relationship a decade later.
"She would have been just the best Mum and I can't describe how desperately sad I am that she never got the chance to be the mummy she so wanted to be," said Mr Coates, from Monmouth in Wales.
"But she'll always be in my heart and any child we are lucky enough to have will know every little thing about her."
Mrs Coates was unable to carry a baby because of her ongoing cancer treatment and blogged about how some surrogate charities said they were not taking new applicants.
Surrogacy is legal in the UK, but it is illegal to advertise for surrogates.
However, the blog was seen by Liz Begg, who remembered Jake and Emmy from school where she was in the year below.
"When Emmy started talking about surrogacy I messaged her and put myself forward," she said.
In May, Ms Begg, a midwife and mother-of-one from Hereford, became pregnant with one of the couple's embryos. A few weeks later Mrs Coates died.
Soon afterwards, Ms Begg's pregnancy was found to be ectopic.
Mr Coates said it was a "heartbreaking" time, with the death of his wife, the failed pregnancy and Ms Begg being treated in hospital.
Ms Begg, who has recovered from the ectopic pregnancy, will soon have another attempt.
"We're really hopeful for the second time, but it will be really different. From the beginning she [Emmy] was my main focus," she said.
"Now the focus is Jake. He wants nothing more than to raise this baby, Emmy's baby, and he will be a truly wonderful father."