New £34m Hereford link road opened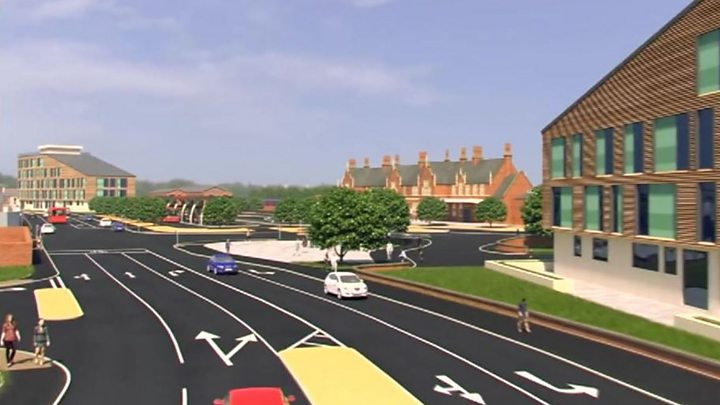 Hereford's new £34m link road has opened.
The road, going from east to west, is hoped to help with the development of a new transport hub, halls of residence and an emergency services centre.
It should have opened last week but was delayed due to the heavy snow.
It provides a walking and cycling route from Great Western Way to the hospital, railway station and colleges and people can drive between Commercial Road and Edgar Street.
Philip Price, cabinet member for infrastructure on Conservative-controlled Herefordshire Council, said the new road "unlocks previously unseen and under-utilised inner city land for development".
He added plans could "now be taken forward for the site to build new homes, a transport hub at the Hereford Railway Station, new public services buildings and university accommodation".
Mr Price said: "What is the public transport system [going] to look like 10, 20 years down the road.
"How do we cope and build a hub that copes with it, so when you come out of that railway station, are you going to catch a bus, a taxi? Do you hire a bike? Do you walk?
"All of those things have been looked at as to how we give you the best impression... [for] the person that comes into Hereford for the first time."
Felicity Norman, who represents The Green Party on the council, said there were "many, many other things that could have been done... over the past decades probably".
Asked what the party would have done, she said: "Much, much better public transport...
"People could comfortably easily walk across the whole city or cycle. It's simply not pleasant or safe to do that and those sort of improvement we've been asking for for a very, very long time."