A&E: People on beds 'as far as you could see'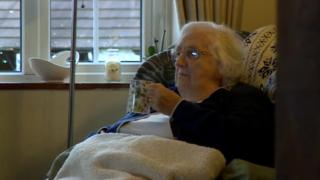 An 87-year-old woman who waited 10 hours in hospital to see a doctor had to be tied into a wheelchair after her bed was taken away, say her family.
Yvonne Beer was taken to Worcestershire Royal Hospital on 1 December with breathing difficulties.
She arrived at the hospital at about 16:00 GMT, but was not settled on a ward until 06:30 the following morning, her daughter said.
Tens of thousands of operations have been delayed due to winter pressures.
"The doors opened and it was just a sea of people," said her daughter Esther Herbert, who lives in Astwood Bank near Redditch.
"There were people on beds all the way down the corridor, as far as you could see."
Ms Herbert said her mother, who suffers from dementia, was transferred from a trolley to a wheelchair to use the toilet, and when she returned the trolley had been removed.
For four hours she had to be strapped into a wheelchair, using a scarf to stop her falling out when asleep, before a bed became available.
It was not until 02:00, that she was seen by a doctor in the corridor, and then a further four and a half hours before she was settled on a ward and Ms Herbert felt able to leave.
"I daren't leave her before that," Ms Herbert said. "She would have been really confused and upset."
Winter pressures
Each year the NHS comes under increased pressure in the winter, largely as a result of an increase in certain illnesses over this period, such as flu.
Non-urgent operations and procedures have been cancelled or deferred until the end of the month as the service struggles to cope.
At least 16 hospitals have declared major incidents and Dr Richard Fawcett, whose Twitter profile lists him as a consultant at University Hospitals of North Midlands NHS Trust, apologised via Twitter for "third world conditions" in his hospital department.
Ms Beer was discharged later that day, but was still struggling to breathe. Ms Herbert insisted her mother went to a different hospital, where she stayed for eight days.
The 87-year-old is now in "a much better state".
Worcestershire Acute Hospitals NHS Trust said it was under considerable pressure over Christmas and was encouraging people to consider alternatives to A&E if they need urgent care.
Whilst it would not comment on individual cases, a spokesperson said: "We recognise that any time spent waiting can be very distressing and apologise to patients who may have to wait longer that we aim for."