Thieves force Kidderminster Food Bank to close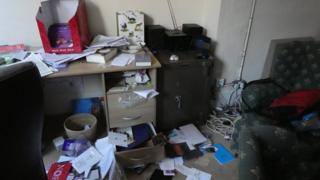 A Worcestershire food bank has been forced to close after thieves ransacked the church where it is based.
The Kidderminster Food Bank, based at the Baxter United Reformed Church, on Bull Ring, was broken into twice overnight and food, money and a laptop were stolen.
Volunteer Denise Carson said due to damage caused by the thieves, the project was unable to run today.
West Mercia Police said it was investigating.
'Mindless vandalism'
Volunteers contacted the force at around 09:30 GMT on Wednesday after finding the damage.
Police said CCTV showed two men entering the building between 22:10 and 22:20 on Tuesday, returning between 01:25 and 02:00 on Wednesday.
Ms Carson said: "The thieves have kicked into the doors or prised them open.
"They have caused a lot of damage and have stopped us opening today.
"It's just really sad. We do our best to help the community and then we have somebody come in and do this mindless vandalism. I don't have the words, frankly."
She added the volunteers aimed to reopen the food bank on Friday.
Reverend Andrew Mann Ray, the church's minister, said: "Doors are off their hinges. It's a lot of mess to clear up. It'll probably take us a couple of days to get back to where we were."
The force said it would like to speak to anyone who may have seen or heard any suspicious activity.