Ledbury care home nurse suspended for theft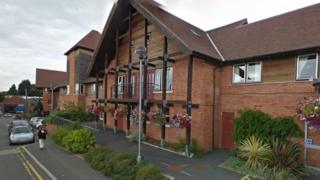 A registered nurse who stole a fishcake from a care home's kitchen and chocolate and perfume from residents has been suspended for nine months.
They were among several items stolen by Sorina Radu from Ledbury Nursing Home in Herefordshire, a Nursing and Midwifery Council hearing was told.
She was caught when colleagues became suspicious and her bag was checked.
Ms Radu said she had been stressed about when she would be able to go shopping and apologised to residents.
She described it as the "biggest mistake".
During a search of the senior support worker's bag, conducted by her manager during a shift on 22 April, a number of items were recovered, including:
Two packets of hearing aid batteries
A bottle of fruit squash
A carton of milk
A toilet roll
Napkins and tissues
A fishcake from the home's kitchen
A bar of chocolate
A bottle of perfume
Two plastic beakers
Six pieces of cake
A jar of jam
A plastic beaker with beans inside
In total, the items were valued at about £50. She admitted theft and received a police caution.
Ms Radu was also dismissed by the nursing home for gross misconduct.
At the hearing on Wednesday, the Nursing and Midwifery Council (NMC) found she had breached its code of professional standards.
It said: "The panel considered that, although isolated to a single shift and involving petty theft of low value items, Ms Radu's actions during that shift involved premeditated and systematic theft throughout the shift as well as an attempt to cover up the theft."