Worcestershire man suing Jet2holidays over pool injury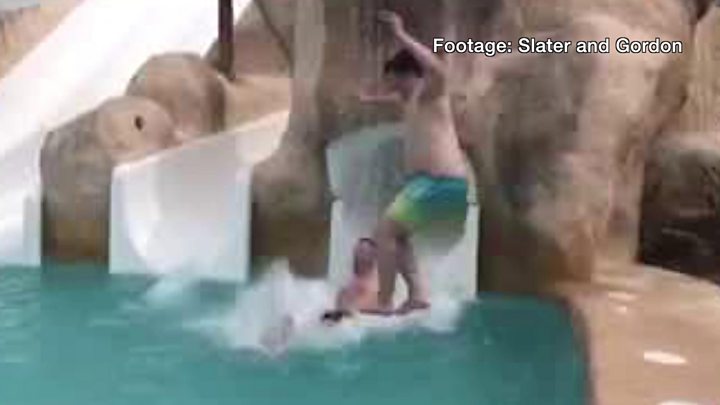 A holidaymaker is suing Jet2holidays after a boy jumped on to him in a pool.
Graham Hyde, 44, says he was put in a neck brace during his Barcelona holiday in June 2017 after the boy jumped on to him as he emerged from a slide.
The Worcestershire man said he "thought my neck had snapped" and the injury ruined the family holiday, but he does not blame the boy.
Jet2holidays said it was investigating his claim "fully" but would not comment further during legal proceedings.
Mr Hyde was holidaying at the Alegria Pineda Splash Hotel with his wife and daughter, to celebrate the couple's wedding anniversary.
He said he "saw something massive" coming towards him as he was coming down a pool slide.
Mr Hyde added that he "only realised later that it was a young lad and he literally landed with his backside on my head".
"I heard a massive crunch and can honestly say I thought my neck had snapped."
Mr Hyde said he was "shaking like a leaf" after going into shock when lifeguards administered first aid using ice packs and deep heat, which he claims burnt his skin.
He was taken to hospital in an ambulance.
Months after the incident, Mr Hyde says he is still experiencing pain and stiffness from the incident.
He said Jet2holidays has not apologised and wants to know why there appeared to be no signs or barriers in place where guests exit the water slide.
Jet2holidays said it could not comment due to the ongoing legal process.
But it said customers' health and safety is "extremely important" and the company is "exploring Mr Hyde's claim fully".