Man ends bid to fulfil late wife's dream for a child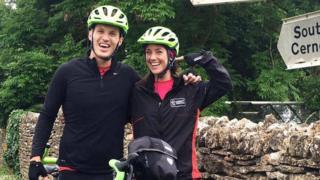 A man who lost his wife to cancer said he is ending their bid to have a child through a surrogate.
Emmy Coates died in June, aged 31, just 18 months after being diagnosed with thyroid cancer.
She and husband Jake, 32, had planned to use embryos, frozen after her cancer spread, in order to have a baby.
But after two failed attempts, Mr Coates said he is delaying the plans "indefinitely".
Mr Coates, from Monmouth, made the announcement on Facebook, saying surrogate Liz Begg "has had to endure physical as well as emotional turmoil" during the process.
Mr and Mrs Coates first dated as teenagers after they met at Hereford Cathedral School, re-kindling their relationship a decade later.
Ms Begg offered her help as a surrogate after reading their blog about Emmy's treatment, charity fundraising and desire to be a mother.
She remembered the couple from school, where she was in the year below.
In May, Ms Begg, a midwife and mother-of-one from Hereford, became pregnant with one of the couple's embryos. But a few weeks later, Mrs Coates died.
The pregnancy was later found to be ectopic.
Mr Coates, a Pride of Britain winner, said it was a "heartbreaking" time, with the death of his wife, the failed pregnancy and Ms Begg being treated in hospital.
Ms Begg underwent a second attempt but this also failed and Mr Coates said he has decided to "delay" his surrogacy plans.
He said: "I cannot thank Liz enough for all that she has done and continues to do for me and all of Emmy's family and friends.
"But more than that, I cannot thank her enough for what she gave Emmy, for she gave Emmy and I hope.
"I will always believe that Emmy has that first baby up with her in heaven."