Hereford SAS veteran rehomed after petition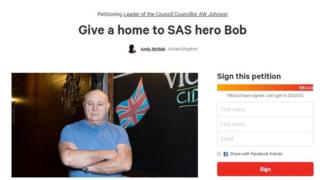 A homeless SAS veteran has found a permanent home after 400,000 people signed a petition.
Bob Curry, 64, is understood to have been part of the team that rescued hostages in the 1980 Iranian Embassy siege in London.
He has now accepted a bungalow in Hereford from a local housing association.
His plight had been shared by novelist and former SAS soldier Andy McNab, who set up the petition.
Mr Curry said the collapse of his business and a relationship breakdown led to him becoming homeless.
He is calling for better support from all councils for former armed forces personnel who are made homeless.
He said: "All I wanted was to go on the housing list and queue up with the rest.
"I want to be happy, that's all I wanted to be in the first place, get my life back together, what is left of it, get myself back on my feet."
'Do better'
At the time, Herefordshire Council said Mr Curry had not provided all the documentation needed to legally register for housing, and had turned down two housing options.
But councillor Jim Kenyon admitted it took too long to get Mr Curry housed.
He said: "We must do better.
"Lessons are being learned so other veterans going through that gateway will be helped, as Bob was in the end."