No notice of homes demolition plans for Hereford Bypass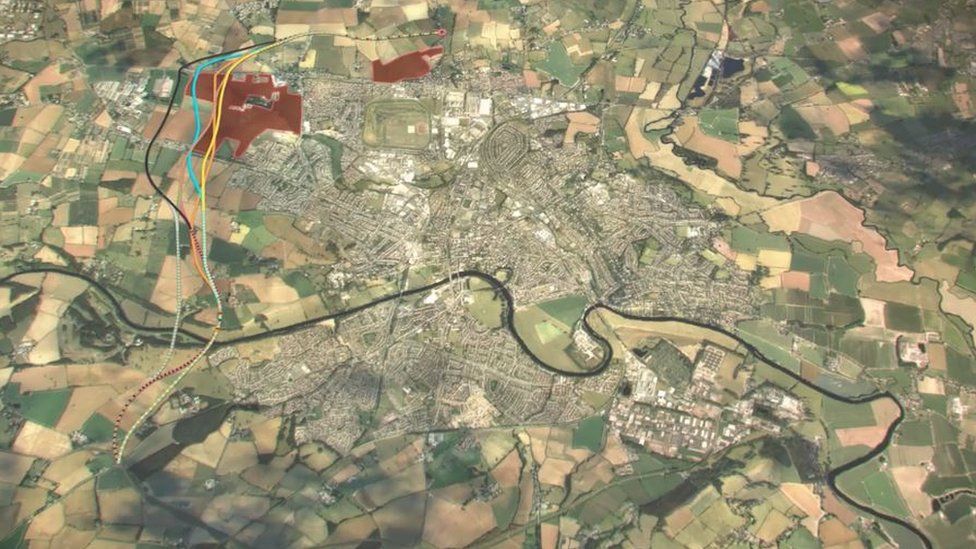 People living on proposed routes of a new bypass were not given notice their houses could be demolished.
Letters were supposed to be sent to 150 people likely to be affected by the Hereford Bypass on 9 January.
But an error meant they were not sent out until just before consultation began on the scheme, a month later.
Herefordshire Council has apologised and said it "was not acceptable for residents to find out through the press or social media".
Contractor Balfour Beatty Living Places was due to send out the letters but did not, which its managing director Steve Helliwell said had been "human error".
The firm apologised to those affected.
Residents of Kings Acre Road said they only received letters last week and many only realised the situation when they saw the possible routes online.
Resident Justyn Waite said: "We got a small apology in a letter from Balfour Beatty blaming a clerical error which isn't good enough and we've missed the first consultation because of this.
"Obviously if we are right under the path, our house will be demolished, compulsory purchase I would have thought.
"Our biggest fear is we're not directly under the route and we're right next to the road, what do we do then? What happens to the house?"
Herefordshire Council said once the mistake was realised, a second letter was sent out to all residents and landowners inviting them to a preview of the plans to discuss the potential impact of the options on their property.
The people who should have received the letters were not all people that would have homes affected, but also those with land interests.
Proposals for a bypass have been debated for more than 50 years, but work could start in 2020, if it gets approved.
A six-week consultation on seven proposed routes is underway.
Related Internet Links
The BBC is not responsible for the content of external sites.