West Midland Safari Park: Visitors 'shaken' by lions on car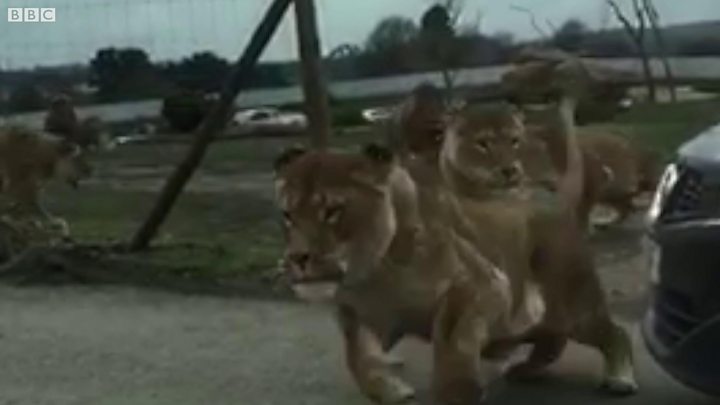 Visitors to a safari park said they were left shaken when "aggravated" lions jumped on to their car in an enclosure.
Abi Tudge and a friend were driving through the lion section at West Midland Safari Park with two children when rangers shut the gates for safety.
The exit of the enclosure was shut temporarily as animals were too near the gate, the park said.
It added that at no time was anyone in danger and a ranger was on hand.
Ms Tudge, from Hereford, said the lions went "over the top" of her friend's car.
"We were so [shaken] up and trying to make sure the children were OK," she said.
She said she feared if the lions had come faster and at the window, it could have smashed.
"The rangers were in their vehicle, but nowhere near the lions," she added.
A park spokeswoman said the safety and wellbeing of guests was "paramount".
The spokeswoman explained the temporary closure was a precaution to prevent the animals from "going between gates" and meant that guests already in the enclosure had to wait in their vehicles "for a short period".
The issue happened as a result of mixing male lions with females, she said.
The male lions had been in the process of being mixed with them for months but as with all wild animals, "normally harmonious groups can on occasion become particularly active", the spokeswoman added.