Birmingham hospital patient 'woke up in cupboard'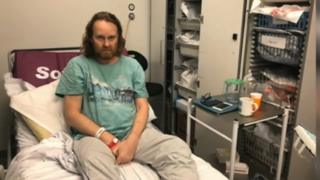 A cancer patient said he "woke up in a hospital cupboard" after having surgery to remove part of his stomach.
Martyn Wells, from Worcester, has been receiving treatment for stage four skin cancer at Birmingham's Queen Elizabeth Hospital for 10 days.
The 49-year-old said he was moved in the middle of the night and woke up "surrounded by cannulas, stoma bags, and other accessories".
The hospital said the "cupboard" was in fact a consultation room.
Mr Wells said: "You can look at the photos and make a judgement for yourself.
"I could barely get a drip valve in by the side and from when I woke up clinical staff were constantly in and out getting bits and pieces they needed for other patients."
In a post on Facebook, he said he was told he had to use the staff toilet and had no access to washing facilities.
"Are things so bad in our great health service that they have to move stage four cancer patients into a cupboard?" Mr Wells' post read.
"Whatever happened to patient dignity?"
In a statement University Hospitals Birmingham NHS Foundation Trust said it was "sorry Mr Wells is unhappy with his situation",
"When a ward reaches maximum capacity a patient who is clinically fit for discharge may be moved into a consultation room to allow another patient with clinical needs to be transferred."
The statement added that consultation rooms were "fully equipped clinical areas".