Supreme Court divorce approval sought by 'unhappy wife'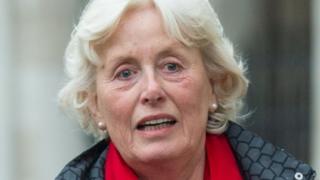 A woman in a "loveless and unhappy" marriage wants Supreme Court approval to divorce her husband of four decades.
Tini Owens, 68, from Broadway, Worcestershire, wants a court's refusal to grant her a divorce overruled.
She says her marriage to Hugh Owens, 80, has broken down, but he claims they still have a "few years" to enjoy.
Lawyers say she should not have to prove "unreasonable" behaviour by Mr Owens, but she should not "reasonably be expected" to stay with him.
A ruling by the five justices is expected later this year and could have implications for unhappily married people seeking divorce.
Barrister Philip Marshall QC, who leads Mrs Owens' legal team, told justices on Thursday that a "modest shift" of focus in interpretation of legislation was required.
Mr Marshall said: "The evidence... demonstrates powerfully that the effect on her of [Mr Owens'] behaviour - however culpable - is such that she should not reasonably be expected to return to a married relationship with him.
"It is submitted that the court can be satisfied... that [she] is entitled to a decree."
Mrs Owens had asked the Court of Appeal to overturn a family court ruling that she could not divorce her husband of 40 years.
But the appeal judges led by Sir James Munby upheld the original ruling.
Should it be easier to get a divorce in England and Wales?
The decision meant Mrs Owens had to remain married, although after five years of separation she would be eligible for a divorce even if her husband still objected.
The Court of Appeal heard that Mrs Owens' case was that the marriage had broken down, although Mr Owens disagreed, saying that the couple still had a "few years" to enjoy.
Mrs Owens contended she had been left in a "wretched predicament", locked in a "loveless and desperately unhappy" marriage.
She had made 27 allegations about the way Mr Owens treated her, including that he was "insensitive" in his "manner and tone" and said she was "constantly mistrusted" and felt unloved.
Opposing a family court ruling made last year by Judge Robin Tolson, who refused to grant a divorce petition on the basis her allegations were "of the kind to be expected in marriage", she took the case to the Court of Appeal.
But on Friday, Sir James - the most senior family court judge in England and Wales - said: "We cannot interfere with Judge Tolson's decision and refuse the wife the decree of divorce she sought."
He said Judge Tolson had correctly concluded that the marriage had not irretrievably broken down "in law".
Nigel Dyer QC, who represents Mr Owen, said Mrs Owen is "seeking to change the law and introduce divorce on unilateral demand", and argued that if divorce law is to be changed, it is a matter for parliament, not the Supreme Court.
The Supreme Court case, in London, continues.
---
Grounds for divorce in England and Wales:
When you apply for a divorce you must prove your marriage has broken down and give one of the following five reasons:
Adultery
Unreasonable behaviour
Desertion
You have lived apart for more than two years and both agree to the divorce
You have lived apart for at least five years, even if your husband or wife disagrees
Source: Gov.UK
---