Missed chances to help Worcester rough sleeper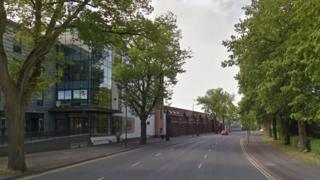 Services had a "missed opportunity" to look at housing options for an older rough sleeper who died in his tent.
An independent review has been published after reports of a "strong odour" led staff at Worcestershire County Cricket Club to the decomposing body of Cardon Banfield on 5 July 2016.
It has recommended offering staff who work with rough sleepers more training.
Worcester City Council said it hopes the review will improve help for the homeless.
But a campaigner said he feels the report "doesn't go far enough."
Published by Worcester City Council, the report said Mr Banfield, 74, was known to have been in Worcestershire since about May 2013.
It said he "intermittently" met with support services from that time until March 2016.
The report said this was "symptomatic" of a transient life, but made it harder for services to know his location.
Services could have done more to look at housing options outside homelessness services, like sheltered housing, because of his age, the report said
It said there was no consideration of why he had not stayed in previous shared tenancy accommodation, which it said could have identified issues and led to more suitable housing.
An inquest in October 2016 said Mr Banfield had been dead for some time before he was found.
Because his remains were so decomposed, the coroner could not establish an exact date or cause of death, recording an open verdict.
Hugo Sugg, founder of the Justice for Cardon campaign, said the report should have investigated why Mr Banfield was left for so long.
The report and its recommendations will be considered by the council's communities committee when it meets on 30 May.