Man found guilty of murdering wife on New Year's Eve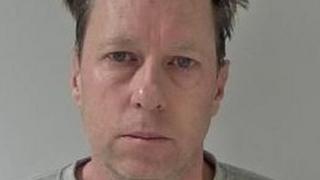 An estate agent has been found guilty of murdering his wife after a drinking game on New Year's Eve.
David Clark, 49, stabbed his wife Melanie to death at their home in Worcestershire last year.
Jurors at Birmingham Crown Court were told she had ordered him to leave the home following an argument over an alleged lesbian affair.
Clark said his wife had "nearly always" belittled the size of his penis, which made him feel "inadequate".
Mrs Clark, 44, also made other cruel remarks during their marriage and told her husband she had a lesbian affair, he told the jury
The court heard her husband became "vengeful" and "uncontrollably" angry when his wife would not rise to taunts contained in text messages.
He previously admitted he could not remember anything of how his wife suffered a fatal stab wound at their home in Stoke Prior, or telling a 999 operator that he had killed her.
Clark, who had been drinking Prosecco and a whisky-based mixer, was arrested at the scene and charged with Mrs Clark's murder on 2 January.
He denied murder and claimed he suffered a "loss of control" and was instead guilty of manslaughter.
Det Ch Insp Neil Jamieson, said: "This was a tragic and senseless crime which has devastated Melanie's family and has left her children to grow up without a mother.
"I hope the outcome of today's proceedings will provide a small sense of closure for Melanie's family, who have shown courage in dealing with this tragedy."
Clark will be sentenced at Birmingham Crown Court on 12 July.