Water drained from Worcestershire canal stretch twice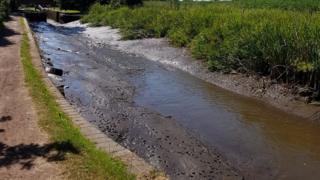 A stretch of canal has been drained of water twice in two weeks.
A lock on the Tardebigge Flight in Worcestershire was left open on Friday, causing a stretch to run dry.
It was refilled on Saturday morning but the Worcester, Birmingham and Droitwich Canal Society said it is the second weekend in a row that it has happened.
It said it does not know if the locks were left open as an act of vandalism, or inexperienced holidaymakers operating the locks incorrectly.
Tardebigge Lock Flight is the longest flight of locks in the UK, made up of 30 locks on a stretch of just over two miles of the Worcester and Birmingham Canal.
It enables boats to ascend or descend 67m (219ft) higher than the tower of Worcester Cathedral.
Tony Brannon, from the Worcester, Birmingham and Droitwich Canals Society said the water ran dry around lock 57.
But he added it is difficult to know whether the locks have been left open as an act of vandalism, or whether it is by inexperienced holidaymakers.
'Double check'
The society has asked people to report anything suspicious, and advised boaters to read the Canal and River Trust information on operating locks.
The trust said it is sometimes an issue, adding: "Our advice would be for people to double check everything is closed up."