Preferred route chosen for Hereford's western bypass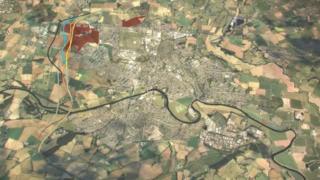 A preferred route has been chosen for the controversial Hereford western bypass.
Herefordshire Council officers have recommended the £129m 'red route' which would cross Kings Acre Road near the Bay Horse Inn.
Five houses will need to be demolished to make way for the road and a further four may have their gardens reduced.
The council's cabinet member for infrastructure said the bypass is "key to promoting growth".
The proposed route is one of seven announced earlier this year and would travel between Warham Farm and Warham House and cross the River Wye close to Dorchester Way in Belmont, linking Rotherwas with the A49 north of the city.
Resident Margaret Andrews said she was only informed by letter three hours before the announcement that her house may be demolished.
She said it was "absolutely devastating" to find out.
'More beneficial route'
Some councillors also raised concerns, with Independent group leader, Councillor Bob Matthews, claiming the red route was totally unacceptable due to its closeness to the Grade II listed Belmont Abbey.
He added: "There is a far more cost-effective and beneficial route to the east of the city which is preferred and strongly supported by local business people."
But Councillor Philip Price, cabinet member for infrastructure, said technical work showed the red route is more appropriate than the alternatives because of "environmental factors and minimising the impact on people".
"The bypass will be key to promoting growth and active travel in South Wye and across the city," he added.
The Hereford Transport Package, which includes the proposed routes, will be considered by the council's cabinet on 27 July.
Work could start next year, or in 2020, with the bypass opening in 2022.