Cricketer Basil D'Oliveira awarded freedom of Worcester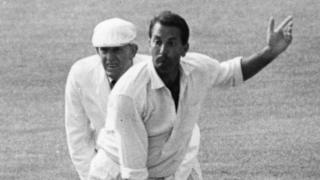 Cricket legend Basil D'Oliveira is to be posthumously awarded the freedom of the city of Worcester.
Born in South Africa, D'Oliveira moved to England in 1960 because of the lack of opportunities for non-white players.
He played for Worcestershire between 1964 and 1980, and represented England in 44 Tests.
Councillors voted unanimously in favour of awarding D'Oliveira the honour, after a proposal was put forward by the city's mayor.
D'Oliveira, who was born in Cape Town, died in 2011 at the age of 83.
However, his family has said he did not have a birth certificate and they may never know his exact age.
In 1968, South Africa cancelled an England tour after the all-rounder was called up to the squad.
The cancellation of the tour led to a ban on sporting ties with South Africa which lasted until the early 1990s.
Worcestershire honoured D'Oliveira in 2003 when they named a new stand after him at their New Road ground.
D'Oliveira will be given the award after a proposal by Mayor of Worcester Jabba Riaz was approved at an extraordinary city council meeting on Tuesday.
It will be presented to his family at a civic reception in September and his name will be inscribed on the Honorary Freeman Panel in the Guildhall.