Staff rue inadequate Hereford academy closure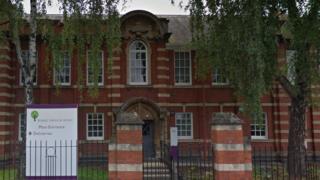 An academy for children who struggle with mainstream education is to close five years after opening.
Ofsted rated Robert Owen Academy in Hereford as inadequate in 2016 and its closure was announced in February.
One parent said it was sad the academy was closing as it had allowed her daughter to "bloom".
A letter from the Department for Education said the academy, which closes on Friday, was in a "weak financial position".
The letter, dated from February, said the academy had fewer than 50 pupils, despite a capacity for 500.
"Such low numbers make it very challenging to provide a sustainably high quality of education for all," it said.
Robert Owen Academy offered a range of vocational subjects alongside more academic subjects.
"We were trying something new," chair of governors Debbie Gittoes said.
"One size does not fit all and that's the system we've got."
She insists she is proud of the school and claims every student who passed through the school has gone on to get a job.
Principal Paul Cordey said staff, the students, the governing body and the trust ad done their utmost to keep it open.
"We've tried valiantly but we have failed."
Herefordshire Council said all students who needed to continue their education have been found places in mainstream schools.