Two guilty of murder after Hereford 'revenge attack'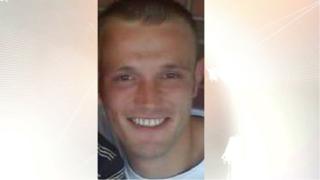 Two men have been found guilty of murdering a Hereford father in a revenge killing over drugs.
Robert Eacock, 33, died in hospital after suffering a single stab on Commercial Street on 29 January.
Anthony Boyd, of Temple Road, Willenhall, and Artaf Hussain, of The Hill Avenue, Worcester were found guilty at Worcester Crown Court.
During their trial, the court heard the killing was a "cold blooded" message to the drugs community.
The jury heard how the victim, and the men who murdered him, were all involved in selling drugs in Hereford.
Two weeks before he died, the jury was told, Mr Eacock and a friend stole £150 of drugs from Boyd, 23, when he met them for a deal.
On 29 January, Boyd had seen Mr Eacock outside a supermarket in Hereford. He then received a phone call from Hussain, 32, bought a knife and, 30 minutes later, stabbed Mr Eacock.
Boyd had admitted manslaughter, but denied murder, and said he stabbed Mr Eacock to humiliate him, not to cause serious harm.
But the prosecution said it was a revenge attack ordered by Hussain.
Speaking after the verdict, Mr Eacock's best friends Matt and Scott Gillespie said he had only become involved in drugs in the last few years of his life.
"Such a tragic event has had a devastating effect on a lot of people's lives," they said.
"The gap he left won't ever filled, we just wish that he'd come to us for help if he knew he was in trouble."
Sentencing of Boyd and Hussain will take place at a later date.