Endangered zebra born at West Midland Safari Park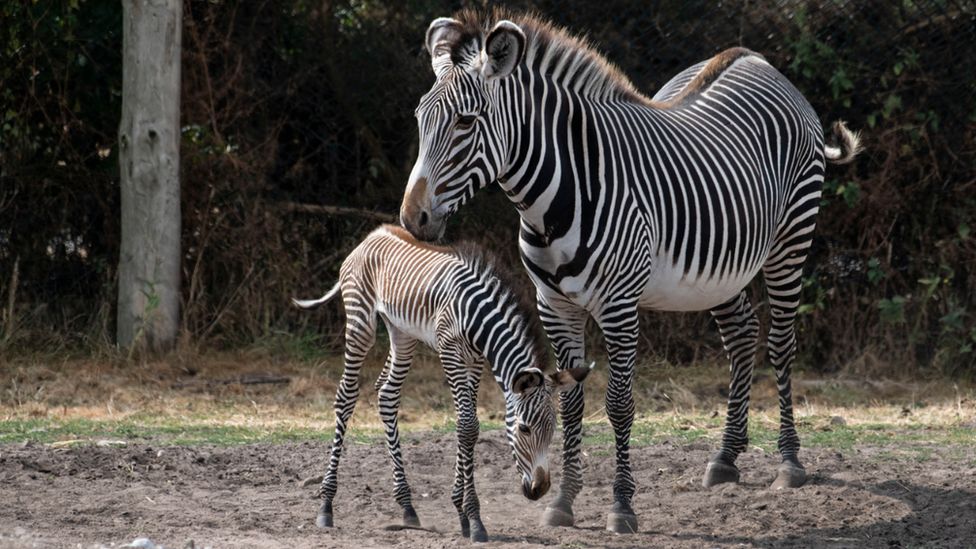 An endangered zebra has been born at West Midland Safari Park.
The yet unnamed Grévy foal arrived during the early hours of Thursday and is the first of its species to be born at the park in Worcestershire.
Keepers will be choosing a name beginning with G as all animals born at the park this year will start with that letter.
Vicky Barsham said the new addition was a "great success" to the park's endangered species programme.
The foal joins the herd of three Grévy's zebra at the park with its first time parents mother Akuna and father Quigley, and another female called Montana.
Ms Barsham, the African ungulates keeper, said: "The foal is doing really well - it's very active, enjoying dust baths and running around the safari."
She said new addition is a "great success" to the Park's European Endangered Species Programme, a breeding initiative of endangered species in association with the European Association of Zoo and Aquaria.
There have been an increased number of Grévy's zebra in Kenya, but there still remains only 2,800 individuals, the park said.
Related Internet Links
The BBC is not responsible for the content of external sites.