St Gilbert's abuse: Head 'told boy to strip before caning'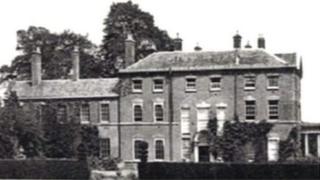 A schoolboy was made to strip and lie on a table before being caned from the neck down, a trial of two ex teachers accused of historical abuse heard.
David Burns, 87, the former headmaster of St Gilbert's in Hartlebury, Worcestershire, faces 21 counts, including two serious sexual offences.
Ex-master Vincent Rochford, also 87, faces two charges: child cruelty and assault causing actual bodily harm.
Both men deny all the charges against them.
The allegations relate to excessive beatings of boys who had misbehaved, involving 16 complainants now in their 60s, and date from 1966 to 1972, Birmingham Crown Court heard.
The boys' school was run by the Catholic De La Salle Order of Christian Brothers under the governance of the Home Office.
St Gilbert's, which closed in 1986, received boys as young as 11 when they were convicted of petty misdemeanours.
The court heard corporal punishment was allowed, but under strict government rules, which prosecutor Tracy Ayling QC said were regularly broken.
The jury was shown a video interview from the ex-pupil, who described Mr Burns as a "violent man" and said he was told to strip off and lie on a table while he was caned from his neck down to his legs.
Giving evidence to police, he said he was once hit 24 times for running away, causing him bleeding and severe bruising, making it hard for him to walk.
Mr Burns, of Kings Grove, Cambridge, is facing charges including two charges of serious sexual offences, one of indecent assault, 16 of child cruelty and two of assault causing actual bodily harm.
Mr Rochford, of Barton Lane, Manchester, is facing charges of child cruelty and assault causing actual bodily harm.
The trial continues and is due to last for six to eight weeks.