GB swimmer Tazmin Pugh died in 'accidental' house fire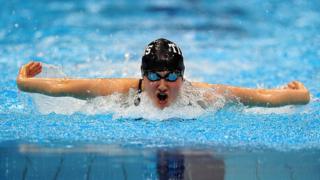 A British youth swimmer died in a house fire started by an electrical extension cable over-heating, investigators have said.
Tazmin Pugh and her partner Josh Kirk were found dead inside a house in Cotheridge, near Worcester, on Sunday.
Hereford and Worcester Fire and Rescue Service (HWFRS) concluded the fire, which was caused by an extension cable under furniture, was accidental.
Ms Pugh, 18, swam for England and Great Britain at youth level.
Emergency services were called to the house on Bromyard Road at about 20:00 GMT.
Mark Preece, area commander of HWFRS, warned about the risks of electrical home appliances.
He said: "Overloaded sockets, frayed or worn cables, and extension cables which are 'daisy-chained' or overheat under materials such as bed clothes or rugs, can become hot and ignite combustible materials around them.
"Making these simple checks in our own homes could help avert another tragedy."
Det Insp Mark Roberts of West Mercia Police said: "Sadly, two young lives were taken in a house fire on Sunday evening in Cotheridge. Formal identification has not yet taken place.
"We will continue to support the families through this tough time."
On Wednesday British Swimming and Swim England said they had learned of the "untimely passing" of Ms Pugh and Mr Kirk, 21, and extended "deepest condolences" to family and friends.
The former Ellesmere College student was also described as an "outstanding young woman".