Alexandra Hospital patients alerted over worker with TB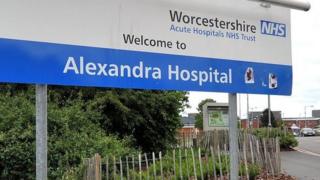 A hospital has written to 141 patients over suspected contact with an employee with tuberculosis (TB).
Three people treated at The Alexandra Hospital in Worcestershire have since been identified by GPs as being at risk of contracting the disease, according to an NHS Improvement document.
Among them were a patient aged over 100 and another with lung disease.
The trust running the site in Redditch said it was not aware of any patients infected by the worker.
It is not clear in what capacity the worker was employed by Worcestershire Acute Hospitals NHS Trust.
The trust said it wrote to 141 patients and 28 members of staff at the end of September who may have come into contact with the individual.
Public Health England was alerted to the outbreak on 6 September and said while not all results of the patient screenings it recommended were available, there was so far no evidence of onward transmission.
It said those exposed to TB and their GPs should be mindful of symptoms which could present themselves "much later" than the point of contact.
TB symptoms
TB symptoms include persistent coughing, weight loss and tiredness
Two billion people worldwide are thought to have latent TB infection, but many will never develop active TB unless their immune system is compromised
TB patients must take antibiotics daily for six months
Those with drug-resistant strains are prescribed an average of 19 pills a day - 14,000 altogether
The illness can cause nerve damage, kidney and liver impairment, and loss of sight or hearing
Vicky Morris, the trust's chief nursing officer, said: "Whilst TB is a serious disease, the risk of catching TB infection is small.
"As soon as the trust was made aware of the case, a full risk assessment was undertaken in partnership with Public Health England to determine all patients and staff who may have had some contact."