Hereford man given hospital order after mother's murder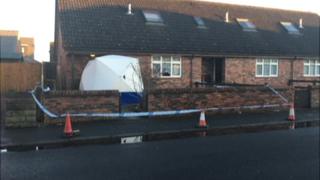 A man who stabbed his mother to death in her home has been sentenced to spend an unspecified length of time in a secure hospital.
Julie Clark, 59, was found dead at the house in Highmore Street, Hereford, on 9 January.
Jason Nellist, 41, of Nicholson Court, Hereford, was found unanimously guilty of the murder after being deemed unfit to plead due to his mental health.
He was given a hospital order at Birmingham Crown Court.
The hospital order was made under section 37 of the Mental Health Act.
Nellist was previously "found under disability unanimous", meaning he was guilty of the murder but had a mental health issue to the extent that classes as a disability.
He was hit by a van in Roman Road after the murder, an earlier hearing was told.