Midlands flood warnings in place after weekend rain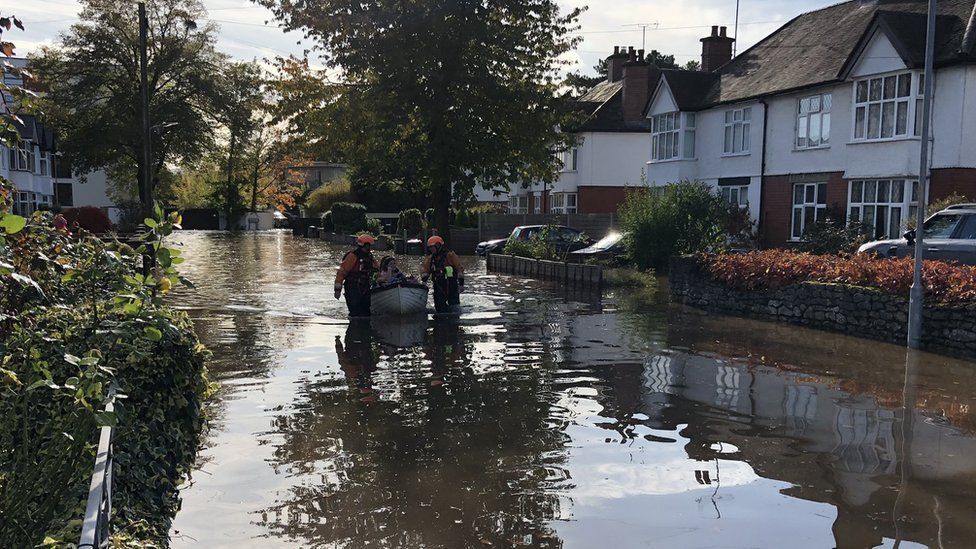 Flood warnings remain in place across the Midlands after heavy rain flooded homes and businesses.
Homes were evacuated in Hereford amid the worst flooding seen there since 1998, with the River Wye at its highest levels since records began.
Many places saw nearly a month's worth of rain in little over 24 hours.
The Wye was 5m above its usual level on Sunday, although in Hereford "things are starting to calm down", according to Chris Bainger from the Environment Agency.
He said flood defences in the city "really did their job" and the flooding "could have been a lot worse".
Hereford and Worcester Fire and Rescue Service rescued 134 people, 16 dogs, three cats and two hamsters from flooding-related call-outs between 09:00 BST on Saturday and 07:00 GMT on Monday.
Cheshire Fire and Rescue said it was called to two river rescues in Nantwich on Saturday.
One man was found "hanging on to the bridge in fast-flowing water" near Waterlode, and another was found "clinging to a branch".
Both men were brought to safety, the fire service said.
The Environment Agency said it was investigating the flooding in Cheshire as there was a "small amount of seepage" in the county's £7m flood defences which were completed in 2017.
James Twigg, one of a number of residents near Northwich marina who had to be evacuated, said: "We got back after midnight Saturday night and it was up to our waist."
Herefordshire Council confirmed 18 of the home's residents had been safely evacuated and all had either been put in temporary accommodation or returned to their own homes.
Carla Good was forced to take refuge upstairs after water rushed into her home.
"It's just terrible, all the carpets are wet through, we're all having to wear boots," she said.
She said the lino in her kitchen had been ripped up by the floods, the garden was "a mess" and her house now "smells disgusting".
Flood warden Colin Taylor got out his boat and rescued neighbours when the water rose in Greyfriars Avenue in Hereford on Sunday.
He said: "I was making sure people were safe and sound... and if they wanted to be moved, we said 'jump in the boat, let's push you to safety'."
In Kentchurch, pub landlord William Chambers said he was forced to stop serving food on Saturday when "the fields just emptied" into The Bridge Inn.
"There was a lot of destruction," he said. "It was quite a powerful flood."
He hopes to return to business as usual by Wednesday depending on the damage to his kitchen equipment after "half the village" helped clean up the pub on Sunday.
River levels have steadied in Worcester, but will not peak until Tuesday,
Related Internet Links
The BBC is not responsible for the content of external sites.