Lockdown entrepreneur Ben Gulliver urges others 'never give up'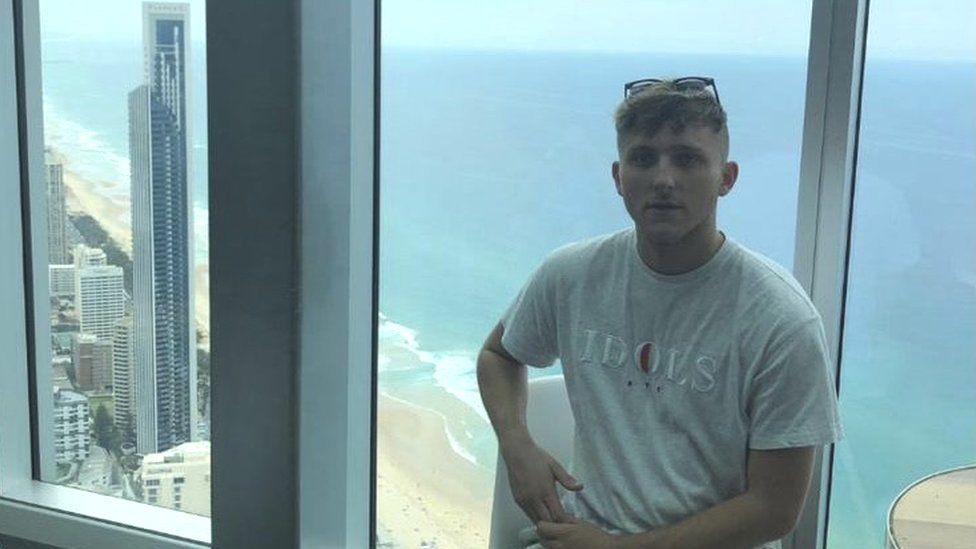 A 20-year-old entrepreneur who has made up to £12,000 a day during the pandemic has urged people not to give up on something they are passionate about.
When Ben Gulliver was furloughed, he started selling much-needed products to people in lockdown.
He sold thousands of teeth cleaning devices, which proved helpful when dentists closed, before moving on to gym equipment and even coffee cups.
"It shows how much can change in a year," said Ben, of Worcestershire.
Ben had been working as a manager at Advanced Hair Studio in Romford, east London, when the UK went into lockdown.
He was furloughed from his job and started making plans to go it alone. It is possible to work elsewhere while on furlough, if the terms of your contract allow.
"This was the perfect time," he said. "I started researching on YouTube to see what business ventures I could do.
"I thought, 'what products are good to sell? A product that solves a problem'."
He decided to start selling things he felt people needed the most, sourcing teeth cleaning products from China, as well as gym equipment, DIY products and coffee cups.
His entrepreneurial streak shone through, even when he was a schoolboy.
"I always knew I wanted to work for myself," he said. "When I was in school, I would buy lollipops for 15p and sell them for £1."
As a teenager he got a placement working with Neil Westwood, whose Magic Whiteboard business in Worcester is one of the biggest successes from the BBC's Dragons' Den.
"I was always keen, asking questions about business," Ben, from Kidderminster, said. He even went on a business trip to Japan, something he describes as a "crazy experience".
"I was only 16. I felt homesick, but I learned a lot about the industry. The biggest lesson I learned was to make contacts."
Ben quit his job when his business took off. "On a good day I can make £12,000," he said.
He sold the tooth cleaning business to an American investor for a six-figure sum after selling thousands of items during lockdown.
For some of those sold, he received negative reviews about quality and communication, something Ben says he is learning from.
The business model Ben has used is sometimes referred to as dropshipping, which while legal has faced criticism including over the quality of products that customers receive.
"I always check the quality of the products first. I get samples and then if I'm happy with the product I order a big bulk," he said.
He is continuing his fitness equipment business and selling other items online and has even been able to employ one of his friends in customer services, giving him a "stable stream of income".
"I want to help young people start up their businesses and give them advice. All they need is that push to get started," he said.
"As long as you have a laptop or a phone and the internet, you can create a business."
And his advice for those wanting to follow their dreams?
"Never give up on something you're passionate about, because it can just happen overnight and pretty much change your life."
Update 22 January 2021: This article has been updated to include more information about Ben's business model and to point out that he has had some negative reviews.
Related Internet Links
The BBC is not responsible for the content of external sites.