Worcestershire NHS managers knew cancers missed due to X-ray backlog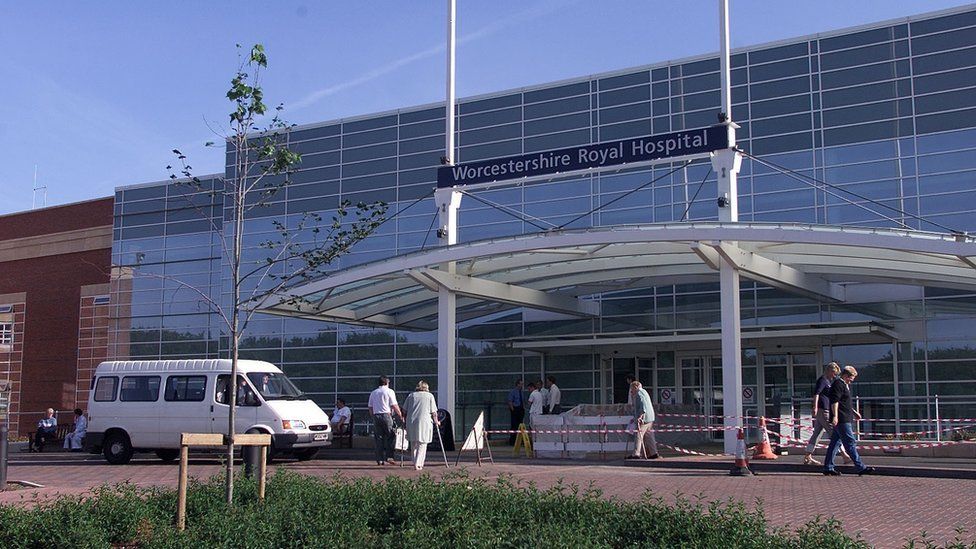 Senior managers at an NHS trust knew up to 30 cancers may have gone undetected two years before an official probe into a backlog of thousands of X-rays.
Three lung cancers were missed at Worcestershire hospitals NHS Trust, a sample check of results in 2014 found.
Neither the Care Quality Commission (CQC) nor Worcestershire Healthwatch were told of potential harm to patients despite both investigating in 2016.
The trust said conditions were imposed in 2016 and lifted again in 2018.
The whistleblower who revealed the backlog was struck off as a radiographer after allegations of fraud. He has now been reinstated after previously undisclosed documents were found to make the strike-off judgement unsafe.
When a patient goes to hospital for a scan or X-ray, it has to be examined and interpreted by either a radiologist or radiographer to decide whether the patient may require further tests.
In 2014, two reports were presented to Worcestershire Acute Hospital Trust's management committee highlighting serious problems with the service.
The committee only looked at 30% of the X-ray backlog, but identified three missed lung cancer cases and another 20-30 possible cases of cancer.
If nothing was done, more than 42,000 X-rays and scans would go unexamined by an expert the following year. It recommended a range of options for dealing with the issue.
But the backlog was not publicly exposed until whistleblower Ken Hall approached the CQC in 2016. where it then identified 11,000 X-rays had not been processed.
Its investigation stated there was no evidence to suggest the hospital's board of directors knew about the backlog and reported no harm to any patient had been identified as a result of the delay in examining X-rays.
When shown the 2014 trust management committee reports, the CQC told the BBC it could find no record of inspectors having had sight of them.
When asked about its finding of no harm, it said: "These go through a rigorous quality assurance process and the Care Quality Commission would not publish any statement in an inspection report that it did not believe to be true."
The BBC also showed the trust management committee reports to Worcestershire Healthwatch which said for the first time it had evidence patients had come to harm and it was of serious concern.
Healthwatch's Simon Adams now believes he was given misleading information by the hospital's then chief executive Chris Tidman, who gave assurances there was no backlog of X-rays and scans in early 2016.
Mr Adams said having reported there was no backlog in 2016 at the board meeting, the local healthwatch group was surprised and embarrassed when the backlog was identified.
Mr Tidman, now deputy chief executive at Royal Devon and Exeter NHS Foundation Trust, was present at both meetings of the trust management committee in 2014 which discussed the backlog and missed cancer cases.
The BBC has repeatedly tried to speak to Mr Tidman, but has been referred back to the Worcestershire trust.
In July 2014, Mr Hall spoke to hospital senior management about the backlog and was given written assurances the then chief operating officer Stewart Messer had been instructed to clear it.
Mr Messer told the BBC there were plans to send the the X-rays and scans outside the trust as this was less expensive than investing in extra staff to do the work.
"I believe that the decision to outsource the X-rays was overturned and the decision was to do nothing. This occurred at the end of 2014 and beginning of 2015," he said.
Mr Hall blew the whistle in 2016 to the CQC and later that year was struck off as a radiographer by The Health Care and Professions Council (HCPC) because he worked four shifts for the Nuffield Hospital, valued at £170, while off sick from the Worcestershire trust with stress - this was said to amount to fraud.
The investigation into Mr Hall was started by the trust after he had left its employment.
But Mr Hall has now been re-instated after three documents came to light showing the trust had been aware he worked for and continued to do occasional shifts for the Nuffield Hospital.
One email said Mr Hall might not know he should not continue working for them while off sick with stress, while the other documents were a different version of his CV which mentioned the Nuffield Hospital and a reference the Nuffield Hospital gave when Mr Hall joined the Worcestershire Acute Trust.
The HCPC accepted these documents were not available to the hearing when Mr Hall was struck off.
Worcestershire Acute Hospitals told the BBC Mr Hall shared some additional information relating to his referral to the HCPC by the trust in 2014.
"We are currently reviewing that information and will respond directly to him in due course. In the meantime it would not be appropriate for us to comment publicly," a statement said.
The investigation into Mr Hall was carried out by Paul Westwood at CW Audit - a trading arm of South Warwickshire NHS Foundation Trust.
In his statement to the hearing where Mr Hall was struck off, Mr Westwood said Mr Hall did not have any information on his job application held on his personnel file that showed he had any other current or existing appointments at that time.
When questioned about the discovery of the three documents, CW Audit said it could not comment, stating: "Mr Westwood found evidence of Mr Hall working whilst off sick, which formed the substance of his testimony to the original hearing in December 2016 which was given under oath."
Related Internet Links
The BBC is not responsible for the content of external sites.