Severn Trent Water fined £1.5m for sewage discharge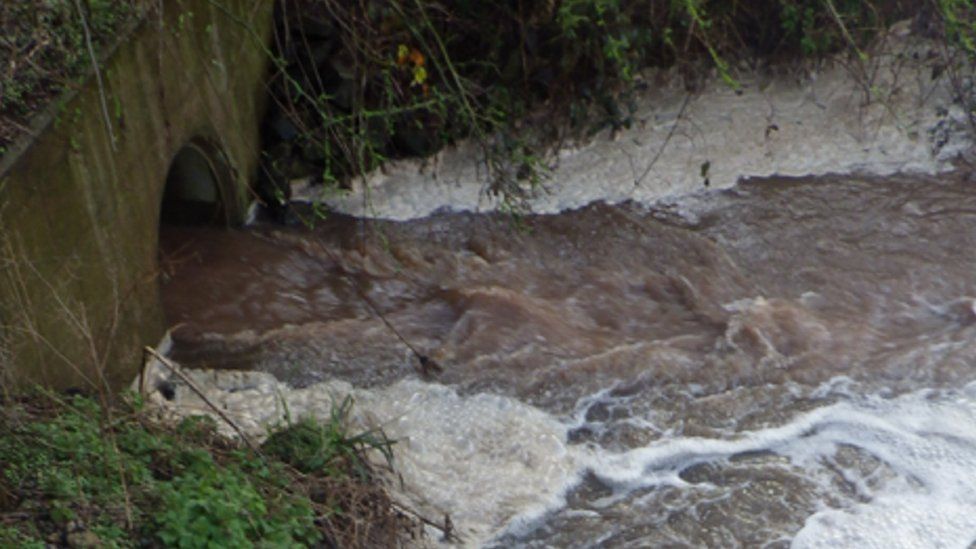 A water firm has been fined £1.5m after sewage was illegally discharged into a brook in Evesham.
The Environment Agency (EA) brought a prosecution against Severn Trent Water saying the company failed to respond to warnings of a blockage.
In February 2018, the group said, a blockage at treatment works in Blackminster led to 360,000 litres of sewage flowing into Broadway Brook.
Severn Trent said it accepted the court's findings.
The EA called the incident "unacceptable". It said it was "hours before Severn Trent Water operatives attended to take remedial action".
The agency added that during sentencing on Tuesday, Kidderminster Magistrates Court also heard how over the winter of 2017/2018, Severn Trent Water failed to adequately manage treatment of sewage sludge at other Worcestershire treatment works.
Sludge built up within the sewage treatment system and, at works in Bromsgrove and Stoke Prior, problems with the treatment process led to discharge in early March 2018 into Sugar Brook and Hen Brook exceeding permitted levels.
The EA said problems at the Priest Bridge works near Redditch in July and August 2018, when a piece of equipment designed to remove fibrous material from incoming sewage failed, had resulted in discharges breaching limits set for Ammoniacal Nitrogen over a two-day period.
In August, Severn Trent Water admitted charges of failing to comply with an environmental permit and breaching permits.
A fine of £1m was imposed for the offence at Blackminster and £500,000 for the offence at Priest Bridge, with no separate penalty imposed for breaches at Bromsgrove and Stoke Prior.
David Throup, from the EA, said: "Incidents like this are preventable and are completely unacceptable, particularly at a time when the need to protect the water environment for wildlife and people has never been greater and when public consciousness on environmental matters is so high.
"Water companies are aware that their activities have the potential for serious environmental impacts, and they know that we will take action when they cause pollution.
"The Environment Agency does and will continue to hold water companies to account when their performance falls below acceptable standards."
A Severn Trent spokesperson said: "These were historic issues that occurred in 2018 and we self-reported them to the Environment Agency at the time; we have been open and transparent with them throughout the process.
"We accept and take seriously the court's findings; we have learned the lessons from the incidents to ensure that we continue to work to the highest environmental standards."
Related Internet Links
The BBC is not responsible for the content of external sites.