Former rugby star joins Covid effort at Worcester hospital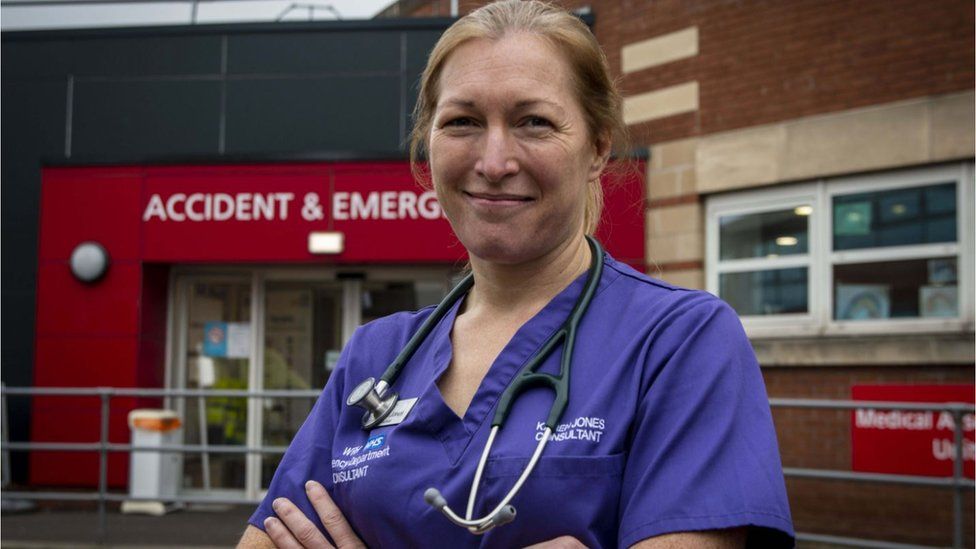 A former rugby union star has joined the effort against Covid in a new role in a hospital emergency department.
Dr Karen Jones, 43, studied medicine at the University of Oxford 20 years ago but put the profession on hold after being called up to represent England.
She played for the national team 32 times and was captain.
Since retiring from the sport, Dr Jones worked as a club doctor before joining the emergency department at Worcestershire Royal Hospital.
"I feel lucky to be part of the team at Worcestershire Royal," she said.
"It's a challenging time to start somewhere new but I feel very fortunate to work alongside such a lovely, caring medical and nursing team who work so hard and really care about their patients."
Alongside studying for her medical degree, she twice competed in The Boat Race for Oxford against Cambridge.
Rugby honours included winning the Women's Nations Cup trophy in 2008 and three consecutive Six Nations Championship triumphs from 2008 to 2010.
She captained the Varsity winning side at Oxford and the Premiership title-winning team at Worcester before hanging up her boots in 2014.
While working as an emergency medicine registrar, she joined Worcester Ladies in 2009 and during her time there she became player/doctor for the side.
"I've stitched up lots of my teammates in many different places and there were lots of dislocations I've put back in," Dr Jones said.
The former back-row joined the hospital in July to be closer to home, but continues to work part time as club doctor for Premiership side Gloucester.
A new, expanded emergency department at the hospital is expected to open before the end of next year.
"I've lived in Worcester for a long time so it's great to be working at my local hospital, and it's an exciting time to join with the plans for the new, expanded department in the near future."
Related Internet Links
The BBC is not responsible for the content of external sites.