Grimsby hosts Humber Seafood Summit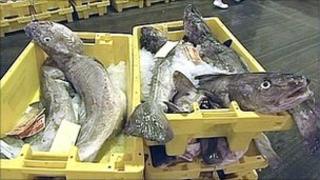 Fishing industry experts from around the world are meeting in Grimsby for the first Humber Seafood Summit.
The event will highlight the issue of how the fishing and seafood industries can responsibly manage fish stocks.
It is being hosted by the Humber Seafood Institute, set up two years ago as a research centre for the industry.
Ian Kelly, of Hull Chamber of Commerce, said: "It will bring many experts from around the world to one of the world capitals of seafood production."
"To have the world come to us to talk about the issues facing the seafood sector and promote Grimsby and Hull is a very good thing," Mr Kelly said.
The summit is supported by seafood group Youngs.
The firm's managing director Mark Escolme said: "This is a great opportunity to get together all of the industry leaders, scientists, fishermen, fish farmers and retailers and producers.
"We'll be talking about the industry both in terms of long-term sustainability and also how to market it better to get more consumers to eat fish.
"This is a very important region, in particular Grimsby, where 70% of all the fish processed in the UK comes from."