Humber gets £1m business boost from Clipper race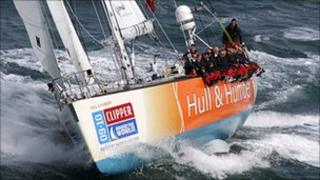 The Clipper Round The World yacht race which ends in the Humber this weekend has generated £1m in trade deals for the region, business leaders have said.
And they believe business links developed through the event will bring in substantially more in coming months.
More than 50,000 people are expected to visit Hull on Saturday as the port welcomes the return of the 10 yachts which set off last September.
The Hull and Humber Clipper has been used to promote the region worldwide.
Business deals signed during Clipper trade events include an agreement to import Canadian seafood into the Humber ports and a transatlantic biofuels supply agreement.
Jobs boost
Pauline Wade, of the Hull and Humber Chamber of Commerce, said: "There is insufficient supply of fish to keep the processing industries going, so going out to the markets that can supply us with that fish will underpin jobs and hopefully create jobs here in our own region."
One of the yachts competing against the Hull and Humber vessel was Canada's Cape Breton team.
Ms Wade said that as a result the two regions are now exploring several trade links, including a deal to supply the Humber region with biofuels from across the Atlantic.
Laurie Taylor, a trade delegate visiting Hull from Canada, said: "Here in Hull we have brought a seafood mission with us and we have brought a renewable energy sector mission with us as well.
"It's all about making these connections and getting the information you need. You can't get that sitting at home on your couch.
"You have got to get out and find it and this Clipper opportunity has really afforded that to use in so many areas."
Janet Reuben, of Visit Hull & East Yorkshire, said the race had raised the region's profile across the globe.
She said: "You may have seen the magnificent shots of the Hull and Humber yacht sailing past the Statue of Liberty in New York, for example.
"As a consequence of that we had a great marketing campaign in the taxi cabs in New York promoting Yorkshire as a great holiday destination.
"Our profile has been taken out across the world."