Bridlington roadworks 'crippling' hotels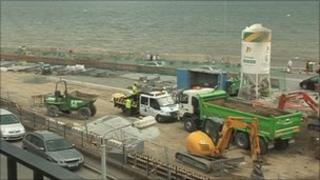 Guest house owners in Bridlington claim their businesses are being "crippled" by long-running council roadworks.
Hoteliers on Pembroke Terrace say bookings have fallen by 30% since road and footpath works began on the adjacent South Marine Drive last year.
They said some guests had told them they would not return to the resort because of the disruption caused.
East Riding of Yorkshire Council said the work would benefit the businesses in the long term.
Bob Hillery, who has run the Spinnaker Guest House for 29 years, said: "Normally at this time of year we would have had anything between 80 and 120 people who just come up on spec and say 'this looks nice, we'll go in here'.
"We've had four or five this year. It's abysmal."
Jean Waring, who travelled from Wales to stay at the Spinnaker, said she was "so disappointed" when she arrived and discovered her view of the sea was disrupted by heavy machinery and dust.
"Now we can't just sit down, it's like sitting down in Spain where they're doing all the buildings. I just don't like it," she said.
All the guest house owners on the street have signed a letter of complaint to the Local Government Ombudsman.
They claim bookings have fallen by at least 30% and passing trade is down by 95%.
David Renaut-Evans, from the Bridlington Guesthouse and Hotel Association, said: "Some of the businesses are saying they have got 32 bedrooms and they have got one guest.
"This is the first time in many years there's been as many vacancies on this street in July as there are at the moment. It's just crippling our businesses."
John Lister, who is in charge of Bridlington developments for the council, said: "One would hope that when this is all finished the businesses will have a much better environment to work in, that their businesses will grow and grow and grow with this investment
"We are trying to get it completed as quickly as we can."