Amputee Bridlington soldier's benefit stopped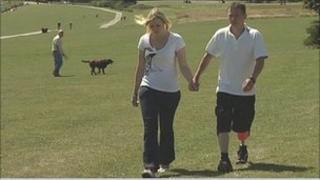 A soldier who lost a leg in Afghanistan says he is "heartbroken" after his disability benefit was withdrawn.
Pte Aron Shelton, 26, from Bridlington, East Yorkshire, had his leg amputated in 2008 after he was hurt in an explosion in Helmand Province in 2007.
His £180-a-month benefit, which pays for an adapted car, will stop after he learnt to walk up to 400m (1,312ft) with the aid of a prosthetic limb.
The government said it was reviewing the system to make it fairer.
Pte Shelton told BBC Radio 5 Live's Victoria Derbyshire programme that he would have to hand back the car once the benefit ended in September.
He said he was told his benefits were being withdrawn in a letter from the Department for Work and Pensions on Wednesday.
He said: "I was heartbroken and angry.
"Heartbroken because I felt I'd been let down by my own government."
Pte Shelton, whose right ankle is also severely damaged, said he could walk up 400m but it left him in pain.
He said: "It's taken a long time and a lot of hard work by myself and the Ministry (of Defence) to get myself back on my feet."
"Driving is the only freedom of life I can get because I can do it without pain.
"[Without the car] I'll be stuck to my house. My nearest shop is 700m (2,300ft) away, I won't even be able to walk to my nearest shop."
Pte Shelton, who wants to become a taxi driver, said he could not use public transport because he could not manage stairs and taxis were too expensive.
A spokeswoman for the Department for Work and Pensions said: "Issues such as this one are why we are making changes to the way we assess eligibility to DLA.
"We want to introduce a new, more objective assessment to ensure the system is fairer and targets those most in need.
"We can't talk about individual cases, but if a someone feels that a decision is wrong they can get in touch with us and we will look at again. Disability Living Allowance isn't paid based on the condition someone has, but on the extra costs they may have because of their specific needs or difficulties."