Bridlington's over-50 men targeted in cancer campaign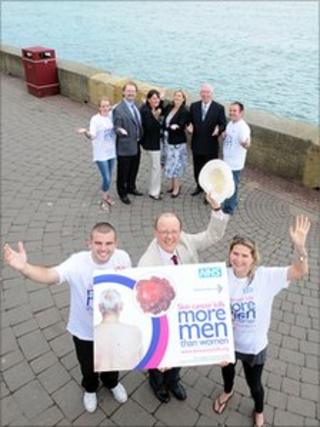 Men over the age of 50 are the target of a new skin cancer campaign in Bridlington.
It aims to raise awareness of the disease and the importance of early detection.
During the summer holidays teams of advisers will visit beaches, pubs, clubs and allotments.
Health experts say men over 50 are being specifically targeted because of their increased risk to the disease and their reluctance to go the doctors.
Dr Tim Allison, director for public health in the East Riding, said: "Everyone needs to be aware of the risks of skin cancer, and we're aiming to have direct contact with at least 2,000 local people between now and September.
"One of the reasons we're getting in touch with over-50 men in particular is that they are a group which is both at risk - perhaps with increased leisure time and spending more time outdoors - and yet reluctant to go to the doctor or even to talk about their health."
'Save lives'
He said generally more women were diagnosed with malignant melanoma in the UK, but more men died from the disease.
The campaign is being run by the Humber and Yorkshire Coast Cancer Network using Cancer Research UK information and materials.
Dr Jodie Moffat, health information manager at Cancer Research UK, said: "Finding skin cancer early can save lives. So keep an eye on your skin and report any changes in the shape, size or colour of a mole or patch of skin to your doctor.
"This is particularly important for people with fair skin, lots of moles or freckles, a history of sunburn or a personal or family history of skin cancer."