Warning of 'tombstoning' danger in East Yorkshire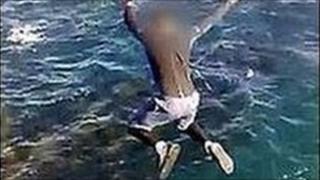 Young people in East Yorkshire are being warned about the dangers of diving off rocks and cliffs following a number of recent reports.
Bridlington police said they had been called at least once a day to reports of groups of up to 30 youths or more jumping off rocks, the pier and walls.
They say the most common places for "tombstoning" are the Harbour Wall, the Floral area and the steps near the Spa.
It is thought the good weather has encouraged more people to join in.
PCSO Andrea Humphrey from Bridlington police station said: "I have stopped people from as young as 10 and even some adults jumping off the pier. They do not see the danger should they slip or jump in the wrong place.
"Areas around the Spa are particularly rocky and pose a great danger and in high tide, the concrete steps and railings go under the water. This is so dangerous."