'Confident' Bridlington marina will go-ahead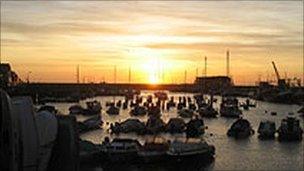 A regeneration chief has said he remains optimistic that plans for a new marina in an East Yorkshire seaside resort will go-ahead.
Plans for the £50m 320-berth marina in Bridlington have been ongoing for 10 years.
John Lister, from the Bridlington Renaissance Partnership, said: "What we have been trying to do this time is to plan the job properly."
He added: "I'm confident that the money will be out there when we need it."
The current plans for the marina, which include new piers, pontoons and jetties, were on show in the town on Saturday.
A previous 500-berth marina scheme was turned down by a government minister in 2003 because of concerns about the marina's impact on the area.
Related Internet Links
The BBC is not responsible for the content of external sites.