Demolition work to begin on Hull FC's Boulevard stadium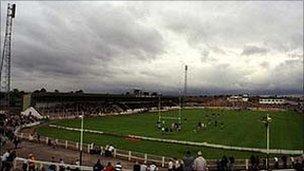 Bulldozers have moved in to demolish Hull FC's historic former ground.
The Boulevard stadium has fallen into disrepair since the club moved to its new home at the KC Stadium in 2003 and has become a target for vandals.
Council officers declared the site as unsafe and the demolition was approved by the city's council's cabinet this week.
Hull FC played at the stadium for 107 years. A new academy school is planned for the land.
The original foundation stones from the stadium, which were laid by councillors when the Boulevard was built, will be used in a memorial.
The rugby posts are being removed, restored and donated to West Hull FC Rugby Club.
Pete Allen, chairman of fans' group FC Voices, said the start of the demolition would be a "sad day".
He said: "They will be removing what had been, since 1895, the home of the Airlie Birds and the spiritual home of hundreds of thousands of Hull FC supporters.
"Progress is inevitable, but it is important that in the future the heritage, location and origins of the famous club are remembered."
Mr Allen said the group would work closely with the council to ensure there was a lasting memorial to the stadium.
Related Internet Links
The BBC is not responsible for the content of external sites.