Phone box thieves in Hull put public at risk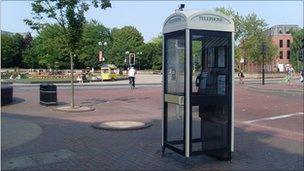 Thieves have left wires exposed in phone boxes across Hull leaving the public at risk.
Police said the offenders have been removing one metre square stainless steel covers from the booths before leaving them in a dangerous state.
Humberside Police said 10 incidents had been reported in Hull and three in Bransholme in the past two weeks.
Communications provider KC said the thieves risked electrocution and were leaving the phones unsafe for use.
A police spokesman said: "Anyone committing these offences is putting themselves at risk of serious injury, which is a risk not worth taking.
"They are also showing a blatant disregard for the community who are being put at risk due to their offending."
Gary Logan, KC's director of network and engineering services, said: "We are repairing damaged boxes as soon as they are reported, but it's important that whoever is causing the damage is caught as soon as possible so that no-one else is put at risk."
Related Internet Links
The BBC is not responsible for the content of external sites.