Crews tackle fire on protected Thorne Moors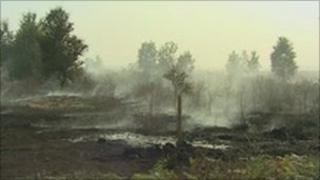 A fire on protected land at Thorne Moors could burn for up to two weeks, Natural England has said.
The fire, which covers 50 hectares, has destroyed between 80 and 100 acres of peat land since it broke out on Sunday.
At its height more than 50 firefighters were at the site, battling strong winds which whipped up the fire.
Thorne Moors, which is designated as a Site of Special Scientific Interest (SSSI), is home to hundreds of plant and animal species.
Natural England, which protects and improves England's natural environment, said the fire had now been contained but about 20 firefighters remained at the scene.
A spokeswoman said: "The fire will still be burning to a degree for potentially up to a few weeks and very windy conditions could intensify the risk to the rest of the site during this time."
Ground-nesting birds at the site include the rare and protected nightjar, which breeds at the site during June and July.
Humberside Fire and Rescue Service is investigating the cause of the fire.