Hull and Grimsby 'among worst placed' for economic woes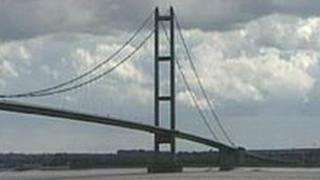 Hull and North East Lincolnshire are among the worst-placed areas in England to weather economic storms, according to research commissioned by the BBC.
The Experian study ranks the 324 English council areas in terms of their resilience to future economic shocks.
Hull ranks 320th, making it the 5th least resilient place in England. North East Lincolnshire comes 312th.
Hull City Council claimed some of the research data was out of date and "has no bearing on where we are now".
The research aims to show the ability of areas to withstand and respond to shocks such as public sector job cuts.
But it does not indicate the areas which will suffer the biggest public sector cuts after the government's October spending review.
Researchers looked at four key themes - business, community, people and place and 33 different factors were examined to produce the index.
These included the strength of the local business base, people's skill levels, life expectancy, crime rates and house prices.
On all those measures, Hull ranks in the bottom 10% of all English council areas, with North East Lincolnshire, which covers the ports of Grimsby and Immingham, just a few places higher up the table.
Carl Minns, leader of Hull City Council, said: "We feel there are issues about the indicators, methods and sources used for this report, such as information that is up to three years old that has no bearing on where we are now.
"The ideal economic structure proposed by the report would mean that to move upwards in the table we would need to fill in the docks and use it grow pumpkins, or other such vegetables, which is clearly ludicrous.
"This report also does not take positive things happening here such as newly established trade links and positive growth in sectors such as renewable energies, caravans and the port."
Dr Ian Kelly, chief executive of the Hull and Humber Chamber of Commerce, said: "Philip Larkin described this part of the world as the end of the line.
"In marketing terms we would rather say the gateway to Europe, but there are weaknesses in the local economy, we are aware of that."
He pointed to the region's "strong public sector bias" as a major factor which could make it more vulnerable than most to any cuts in public services.
That is reflected in the research which shows Hull lies 312th out 324 and North East Lincolnshire 283rd in terms of the proportion of businesses in "resilient sectors", such as agriculture, forestry, fishing, banking and insurance.
In contrast, the neighbouring East Riding area ranks 20th in England.
Hull also has one of the lowest life expectancies in England, coming 315th for men and 317th for women.
The city is the 23rd most vulnerable area for long-term unemployment and has one of the lowest proportions of people in managerial posts (321st out of 324).
Hull and North East Lincolnshire both have low house prices, appearing at 320 and 306 respectively on the list.
However, there is some light among the gloom as the port of Hull ranks in the top 5% of exporters in England and just outside the top third (115th out of 324) for business start-ups.
Dr Kelly also sounded a positive note, saying the Humber region had been identified as a prime location for the construction of wind turbines for major renewable energy projects in the North Sea.
This would bring "major opportunities for inward investment", he said.
Spending Review: the Look North debate is on BBC One on Thursday at 2235 BST, presented by Tim Iredale. Radio Humberside phone-in on Friday from 0900 BST.