New £3m park to help Grimsby businesses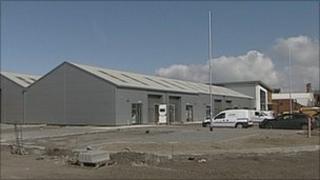 The first tenants have moved in to a new £3m business park in Grimsby which offers help to new companies.
The e-Factor Enterprise Village, at Albert Street Gardens, is the largest commercial development built in Grimsby for 20 years.
It charges low rents and offers short-term leases and specialist business advice to new firms.
E-Factor is a government-funded initiative which was set up to encourage local enterprise.
The complex will provide workshop and office space for 32 start-up firms.
Jason Bingham, an electrical contractor who has recently gone into business at the complex, said: "We don't have to go about setting up phone lines, we have got internet on site.
"We have got conference facilities in the offices here on site, if we need a conference room it's here available, if we need help from their businesses advisors they're there on site."
By offering low rents with no long-term commitments, e-Factor is hoping to encourage more people to start their own businesses.
Tony Parkinson, who manages the new park, said: "We help them start the business, help them get confidence in their business and then when they are ready we work with them... talk to them about moving out into the outside world."