Freeman Street regeneration plan gets council approval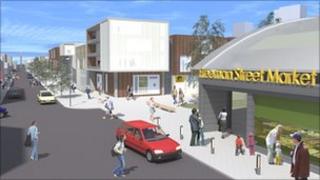 A plan to regenerate the rundown Freeman Street area of Grimsby has been approved by councillors.
The scheme includes redevelopment of the shopping centre, a new public park, housing renewal around Thesiger Street and a business and enterprise zone.
North East Lincolnshire Council has teamed up with Shoreline Housing Partnership and The Freemen of Grimsby to drive the regeneration.
A council spokesman said the partners were "keen to make swift progress".
'Very exciting'
The spokesman added: "Advanced discussions with the owners of significant sites are already taking place to enable visible results to be produced on the ground as a demonstration of the partners' commitment."
Geoff Lowis, portfolio holder for regeneration and housing, said: "This is a very exciting time.
"The framework will provide a clear direction enabling all of the partners and the community to do their bit in a co-ordinated way.
"We are confident that we will soon see the start of what will be a long-term, but worthwhile, project."
He added he was hoping other companies would now get involved with the plans to revamp the "historically-important" area.