Hull City Council has 'no deal' with Connaught buyers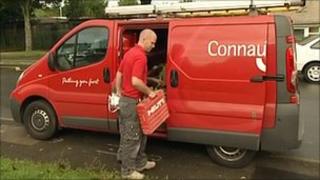 Hull City Council says it has not yet reached a deal with a firm which has bought the majority of Connaught's social housing unit.
The council said it had an £8m contract with Connaught but had not heard from administrators since most of the contracts were sold to Lovells.
It leaves more than a hundred former workers unsure about their future.
Connaught Partnerships Ltd has shed 1,400 jobs since it went into administration last Wednesday.
Most of the firm's contracts have been sold to Lovells, the social housing wing of building firm Morgan Sindall.
Hull City Council said it had not received official notification from administrators KPMG or Morgan Sindall.
A spokeswoman said: "The council does not have a contract with Morgan Sindall and has, as an interim measure, made alternative arrangements with its other repairs and maintenance contractors to minimise any disruption to tenants and services and to ensure work is completed."
'Safeguard the future'
She added that the only course of action available was to serve notice to terminate Connaught's repairs and maintenance contract in Hull.
Susan De Val, Hull City Council's head of legal and democratic services, said: "The council has had to take this action to maintain an effective service and safeguard its contractual position.
"Although we have received no communication, the council is of course available to meet with representatives from KPMG and/or Morgan Sindall with a view to discussing any proposals they may wish to put before the council regarding the contract, which may also help to safeguard the future of Connaught workers."
Les Dobbs, from the GMB Union, said he would be asking Hull City Council to transfer members who used to work for Connaught to its alternative contractors.