Sewerby Hall vandals sought by police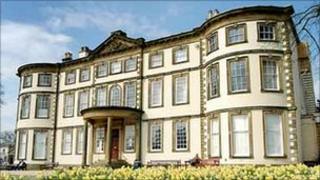 Police patrols are being stepped up at a grade I listed country house in East Yorkshire after a spate of vandalism.
Damage has been caused over the past two months to wooden tables, a flag pole, windows and a marquee at Sewerby Hall, which overlooks Bridlington bay.
Police said four separate incidents had been reported since the end of July, the latest being last weekend.
"The damage has caused great distress to visitors and local residents," a Humberside Police spokesman said.
The local neighbourhood policing team has been working with East Riding of Yorkshire Council, which owns the hall and its 50-acre gardens, to catch the vandals.
Local Police Community Support Officer Beverley Feirn said: "The local policing team are working with the owners of the hall to help look at ways that security can be increased and police patrols can be stepped up.
"I would appeal for anyone who has any information that can help with our inquiries to contact police."
An East Riding of Yorkshire Council spokesman said: "We are working with the police on this issue and would urge anyone with any information to come forward."