Former Hull soldier's sister in discrimination claim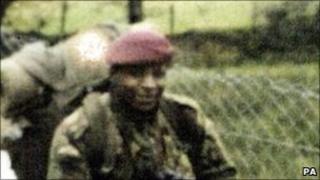 The sister of a man who died in police custody has told a civil court hearing she was racially discriminated against by the Crown Prosecution Service (CPS).
Janet Alder alleges the CPS racially discriminated against her during her dealings with them in the period after the death of her brother, Christopher.
She believes the CPS would have treated her differently if she were white.
Mr Alder, 37, choked to death while handcuffed and lying on the floor of a Hull police station in 1998.
After his death a coroner's jury returned a verdict of unlawful killing at an inquest.
In 2002 five Humberside Police officers went on trial accused of manslaughter and misconduct in public office. They were cleared of all charges at Teesside Crown Court.
Ms Alder, who is representing herself in the civil action, told a court in Leeds she believed crucial information relating to race was left out of the trial of the officers because people involved in the prosecution did not want them to be convicted.
She said analysis of the video of the events in the custody suite revealed the sound of monkey noises being made.
Cathryn McGahey, representing the CPS, said it had been explained to Ms Alder that the issue of the alleged noises could not be put before a jury because it was impossible to say who had made the sounds.
But Ms Alder told the judge that she believed prosecutors had left out this evidence because some individuals did not want the officers convicted.
The hearing was adjourned until Tuesday.