Plaques stolen from Hull churchyard recovered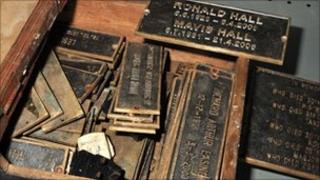 Seventy memorial plaques stolen from a churchyard in Hull have been recovered by police.
The brass plaques were put up on a wall outside St James Church in Church Street for families to remember their loved ones.
Thieves stole a total of 120 plaques between 1700 BST on 9 September and 1200 BST on 10 September.
Police have recovered 70 of them and are holding a meeting to try to return them to the those affected.
Three men, aged 32, 47 and 56, have been arrested on suspicion of theft and released on police bail.
Sgt Mark Peasgood, from Humberside Police, said: "The theft of memorial plaques at the church has caused a great deal of upset in the community."
A police surgery is being held at the church on 24 September between 1500 BST and 1900 BST.