Driffield Canal boat owner wins planning appeal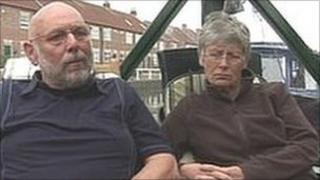 A houseboat owner who was facing eviction from his mooring on an East Yorkshire canal has won a legal battle against council planners.
East Riding of Yorkshire Council said the boat at Hempholme amounted to a "new dwelling", so was in breach of planning guidelines.
After a three-day public inquiry Dennis Norris, who owns the boat, has been told he can stay.
Mr Norris said he and his partner Andrea Gayton were "ecstatic".
The couple said they nearly separated because of the stress caused by the issue and they had to borrow money for the legal fight.
Mr Norris said: "It's unbelievable. I'm still trying to take it in.
"[The council's] argument just seemed a bit lame, and a waste of taxpayer's money to me.
"I'm relieved it's now all over with."
Enforcement notice
The council issued enforcement notices to the couple and to Gordon and Eileen Taylor, who also live on the canal.
The notices said they had to "permanently cease the use of the land for the stationing of boats used for human habitation purposes and remove them from the land".
Mr and Mrs Taylor's case also was heard at the public inquiry. They are still waiting for a decision from The Planning Inspectorate in respect of their case.
John Murray, for The Planning Inspectorate, disagreed with the council's argument that the use of boats on the canal as permanent homes required planning consent because it amounted to a change of use of the land.
He allowed Mr Norris's appeal and said the enforcement notice would be quashed.
The council said it was "considering the implications of the decision, and would not wish to make any further comment at this stage as there is a second appeal for another boat at the site currently under consideration."