Castle Hill teenage cancer unit plan unveiled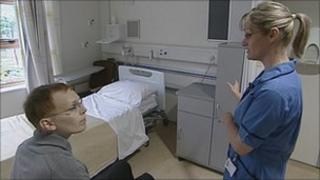 Young people with cancer could soon receive specialist treatment in East Yorkshire - saving them journeys of at least 60 miles to the nearest facility.
Patients currently have to travel to Leeds or Sheffield to be treated at a specialist teenage cancer unit.
The Teenage Cancer Trust has now unveiled plans for a facility at the Castle Hill Hospital near Hull.
It needs to raise £150,000 to fund the unit, catering for 16 to 24-year-olds, which it hopes to open in February.
The Teenage Cancer Trust said the Castle Hill facility would include a three-bed unit, a day room with music area, a recreational area and outside space.
Cancer patient Jonathan Tiplady, 23, of Goole in East Yorkshire, spent months being treated at a teenage cancer unit in Leeds after previously being on an adult ward.
He said it was important for young people to be treated in their own environment and having a specialist unit in East Yorkshire would be a boost for local patients.
"It's a distraction from what's happening to you or around you" he said.
"Anything that can distract you, you know. I think everybody knows cancer is horrific."