Humberside firefighter cuts plan 'would risk lives'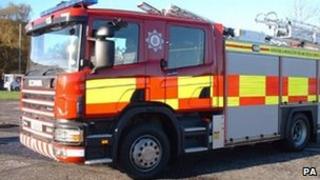 Lives may be put at risk if proposed cuts to the number of firefighters in the Humber region go ahead, unions say.
Humberside Fire Authority has revealed how it plans to make £7m of savings amid looming cuts to public spending.
The plans include reducing the number of firefighters on engines from five to four, which could lead to 170 job cuts.
The Fire Brigades' Union (FBU) said front-line cuts should not be made. The fire service said response times would not be affected by the planned changes.
The authority has started a three-month public consultation on its Strategic Plan and Integrated Risk Management Plan.
A final decision will be made in the new year and any agreed changes will come into effect in April.
Ian Murray, from the FBU, said the union was "very disappointed" by the proposals.
He said: "Any reduction in the front-line emergency service we consider to be putting a serious risk to the lives of the public and to the firefighters who attend these incidents."
The FBU said it was also concerned about plans to review the contracts of retained crews and use "small fires units" rather than full-sized engines for minor incidents.
The union has called an emergency meeting to discuss the plans next week and will then consult its members.
A spokesman for the fire service denied that a reduction in firefighter numbers would lead to delays in responding to incidents.
Humberside's average response time to emergency calls is one of the top five among fire services in the UK.
The spokesman said: "That will be maintained with these proposals in place."
He said jobs would go but the service hoped posts could be lost through natural wastage and retirement rather than redundancy.
Councillor John Briggs, chairman of the Humberside Fire Authority, said: "People are going to be concerned about the possibility of change in their fire and rescue service and they want to be sure that, whenever they make an emergency call to us, there will be a quick and effective response.
"We obviously share this view and we want to emphasise our commitment to making sure that at any time we have the right people with the right resources to deal with fires and emergencies, in an effective and speedy way."
Details of how people can comment on the proposals can be found on the fire service's website.