Bridlington ex-soldier's petition at benefit withdrawal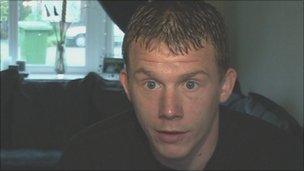 A former soldier who lost a leg in Afghanistan has collected a petition calling for his disability benefit to be reinstated.
Aron Shelton, 26, from Bridlington, had his left leg amputated after an explosion in 2007.
He said his £180-a-month benefit, which funded an adapted car, was stopped when he was able to walk up to 400m (1,312ft).
The Department for Work and Pensions said it was following guidelines.
Mr Shelton said he had collected about 2,000 signatures to try and get his benefit reinstated.
He added that he hoped his campaign would help other former soldiers who found themselves in a similar situation.
Mr Shelton said he was told his benefits were being withdrawn in a letter from the Department for Work and Pensions earlier this year.
He said the £180-a-month, which pays for the adapted car, was vital as he can only walk a short distance.
The former soldier, who served with 2nd Battalion, The Mercian Regiment, said he now receives about £12 a week in disability benefit.
East Riding of Yorkshire Council added its support to his petition at a meeting on Wednesday, after the issue was raised by a councillor.
Mr Shelton told BBC News Online: "I know I am not the only former soldier who is going through this battle at this time.
"I want to see a change so that other soldiers coming back from Afghanistan are looked after properly."
Mr Shelton said that when he found out his disability benefit would not be renewed it had left him "really downhearted"
"I have come back and other soldiers are coming back to fight another battle on our home ground against the government."
Mr Shelton said he was planning to take his case to an independent tribunal.
A spokesman for the Department for Work and Pensions (DWP) said: "We recognise the brave service Aron Shelton has given his country.
"His case has been reviewed, but we must follow the guidelines set out in legislation - a benefit award is not discretionary.
"Aron can appeal this decision at an independent tribunal if he wishes to."
The spokesman added: "All personnel injured as a result of service are entitled to payments under the Armed Forces Compensation Scheme."
Related Internet Links
The BBC is not responsible for the content of external sites.